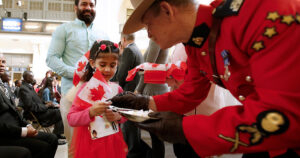 Backlog growing for immigrant citizenship applications in Canada –
Obtaining Canadian citizenship is regarded as the culmination of an often complex immigration journey, but also as a source of pride and satisfaction for such an accomplishment. And although the path to becoming Canadian has always demanded a certain level of dedication of time and effort, it has recently become one of uncertainty and delayed expectations for many.
When the Covid-19 pandemic hit in March 2020 the whole world came to a holt. It is not hard to imagine that immigration services, as such huge machinery within the Government, would not be the exception. However, very few thought that delays in this process could mean applicants would have to endure waiting times of more than 18 months in some cases.
According to recent surveys from the Government, there was a staggering increase to more than 100,000 people who are currently waiting to take their citizenship tests. On top of those numbers, around 312,000 are waiting to start their whole citizenship applications altogether. Combined, this means an enormous pressure on the immigration system of Canada, where not enough resources seem to be dedicated to processing these applications.
By the end of November 2020, Immigration, Refugees and Citizenship Canada (IRCC) announced that they would begin holding citizenships tests online. Six months after that, invitations sent to applicants for these online exams are at around 66,000, while the ones completed represent fewer than 44,000.
As with many other processing times in immigration, citizenship has not scaped the overall delays brought about the changes introduced to contain the pandemic. However, according to applicants and advocate groups alike, there seems to be an underlying lack of commitment from the Government to focus on clearing the backlogs that existed before Covid-19, and which have grown worse since March 2020.
While the Minister of Citizenship and Immigration, The Hon. Marco Mendicino, has told in recent days for people to "keep the faith", the path still looks unclear as to how IRCC will be able to keep its pace to complete the current applications and the many more that are underway.
If you require assistance with your application or have questions about this program we can assist you.
Please book a consultation to start the immigration process.